Balancing life as a Mompreneur
I occasionally think we have to remind ourselves as mompreneurs about time management and the importance of scheduling tasks in advance...just to maintain proper composure, minimize stress levels and prevent ourselves from wanting to jump off the nearest cliff when times get tough.
Entrepreneurs that properly plan out their daily schedules through good time management skills tend to be better business owners with lower levels of work-related stress. I have found that stress can easily be avoided with simply having the calendar well-organized on a consistant basis. Likewise, business-related tasks should be carefully planned in order to free up time to be with our families.
Sometimes it may feel as though we are victims of our own circumstances. Do you frequently find yourself working long hours, rushing to get things done while barely allowing yourself enough leftover time to sleep? If you answered YES to this question, you may need to consider improving your time management skills; that is unless you want to end up like this woman...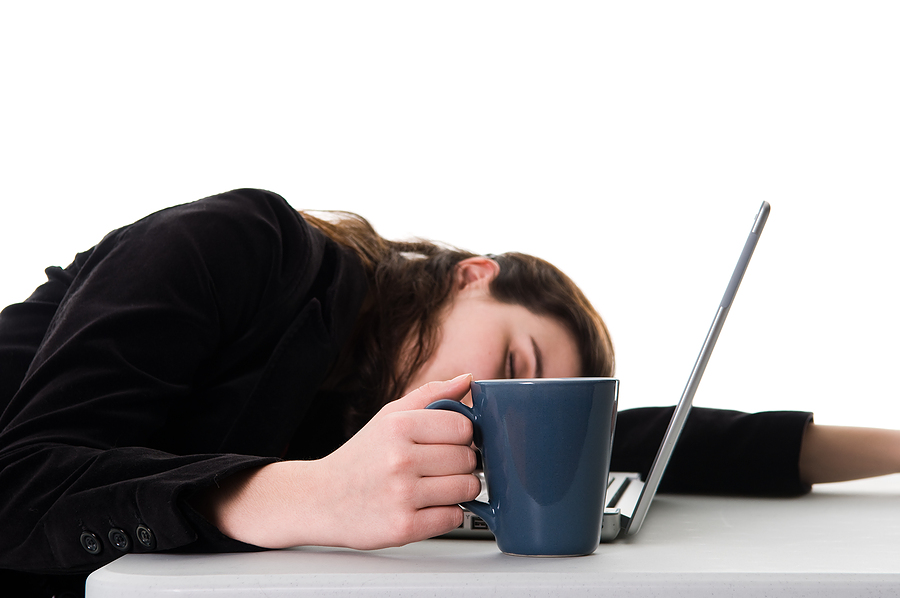 Many mompreneurs like me have the natural tendency to continually stay busy, but it's important to schedule regular downtime, time to rejuvenate, even if it's just for a couple hours a day and schedule personal activities away from work.  It requires self-discipline, but soon you will realize the positive effects of developing good time management skills.
Here are some helpful guidelines to follow:
Set intentions
- Ask yourself, "What am I hoping to accomplish today?", "What is my ultimate goal for the day?" If you know what you want to out of each day, it will be much easier to effectively achieve your plans with focus
Prioritize your time
- Make a list of things you wish to accomplish on a given day. Write them down in three categories in terms of HOT, WARM and COLD.  The "Hot List" should include all your mandatory tasks. Warm items are less important and cold being those you can delegate or skip; but I suggest finishing as much as possible to avoid those future headaches, especially when deadlines are approaching. Who knows? If you ever have a moment to spare in the future, maybe you'll get it!
Don't be afraid to say "NO" 
- Ever found it difficult to decline an invitation? Especially those last-minute ones? You shouldn't feel pressured to dismiss a previous commitment when work is suddenly requested of you. We must remember that it is OK to say "NO" if asked to do something already outside of our schedule.
Set up projects that support taking breaks
 - It is a good idea to cluster your workload into 60 to 90 minute projects that allow time to complete more intense work
Schedule in time for yourself and your family 
- By dividing your projects into 60 to 90 minute segments of uninterrupted work flow, you will be able to increase progress and finish all business-related tasks at an earlier time every day, granting you more time to spend with those you love most
Find extra time to work on small tasks whenever possible 
- While at the grocery store waiting in line, in a reception area or on the train, find 10-15 minute tasks you can complete using your smartphone or mobile device;) DO NOT WORK WHILE DRIVING, PLEASE...U know what I mean;)
Find a mentor
- Know of a successful mompreneur that really seems to have it together? Exchange ideas with them, find out what they are doing right and what you aren't. Try to exercise their good habits. Taking the advice from someone who is more experienced will give you a stronger advantage at becoming a more successful mompreneur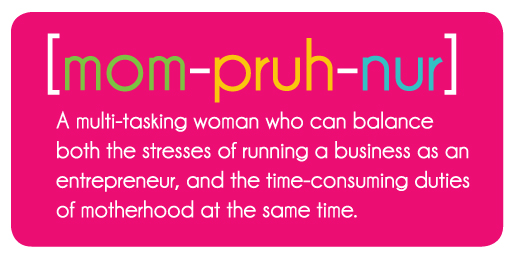 I'll admit, it's rewarding and gratifying to be a hardworking person, but we are women carrying a lot more responsibility as mothers and entrepreneurs. We can't operate like machines! We can't be everywhere all the time! So why demand it out of ourselves? There's no reason to push ourselves beyond our limits. It's just not worth it. Let me give you a couple examples that have resulted in unpleasant outcomes. I talk to other mompreneurs, devoting nearly all of their time towards work. One of my friends traveled so much in 2012 that her immune system collapsed in December. As a result, she had to go to the hospital after catching pneumonia and was confined to her bed at home for several days. Another friend missed her son's Christmas celebration because she had to attend a  meeting with a very important client; again, was it really worth it?
Moderating and balancing time between work and family are good skills to practice. Once you have mastered time management, you will become more relaxed and accomplish business tasks at a noticeably higher efficiency while gaining more hours each day to spend quality time with family. I'm glad my son who turns 4 in March goes to school four days a week from 9 a.m. - 1 p.m. before coming home and taking a nap. It gives me time to focus those hours towards my business. I have a wonderful nanny/housekeeper who allows me to dedicate my time towards WORK. No need to worry about my kitchen, my bedroom or even what we will have for lunch or dinner; she always takes care of it. OK...I won't forget to mention here my wonderful hubby that gives me a helping hand, although he has his HONEY DO LIST too;) Now things have change a bit on my end...my little girl was expected to arrive on or before January 31st. Stella Rose Brooks surprised us arriving on January 9th...This blog comes perfect to what I need to accomplish in the next few months. I need to adjust to our new member in our family while reorganizing my whole agenda for 2013;) Anything is possible but we have to get organized. [caption id="attachment_1725" align="aligncenter" width="565"]
Born on January 9 - 4 pounds 12 ounces[/caption] Entrepreneurs frequently suffer from being extreme workaholics, constantly pushing themselves to the limit. As we have learned, poor time management frequently results in negative consequences. All mompreneurs should learn just as I have that nobody's going to set the rules but you. It requires initiative and self-discipline. I therefore urge all mompreneurs to stand up for themselves, to stand up for their businesses and to start leading healthier and more professional lifestyles. By creating an appropriate equilibrium between time spent at work vs. time spent at home, I can guarantee you will quickly notice a boost in stamina, productivity and motivation. Hope this helps;) Sincerely, Evelyn Brooks